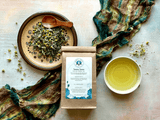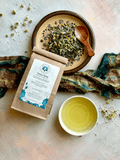 Raven Crest Botanicals
Tummy Tamer Tea
Our flavorful, hearty herbal blend with a subtle anise aroma helps aid digestion. Catnip, mugwort, peppermint and chamomile bring ease and movement to soothe a full stomach. Our hand harvested, solar dried herbs are gathered at peak vibrancy. Savor a cup after your meal and enjoy a tasty, fragrant way to help you digest your best. Naturally caffeine free.
16 servings.
ingredients: mugwort leaf & flower (Artemisia vulgaris) • chocolate mint leaf (Mentha × piperita) • catnip leaf (Nepeta cataria) • wild apple mint (Mentha suaveolens) • German chamomile (Matricaria recutita) • fennel seeds (Foeniculum vulgare)

preparation: Use two teaspoons of loose tea per cup. Pour boiling water over the herb and cover. Let steep for 10 minutes to bring out full flavor. Enjoy a cup after meals!