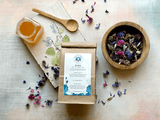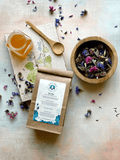 Raven Crest Botanicals
Sunrise Tea
Greet the day with this uplifting and detoxifying herbal blend! Oat straw, oats milky tops and stinging nettle nourish the body while bringing calm and strength to the nervous system. Red clover blossoms move the lymph, helping to gently eliminate toxins alongside dandelion root. Wild apple mint from our meadows adds a smooth, minty brightness and balance to the blend. Let steep for 20 minutes to enjoy all the benefits.
16 servings.
ingredients: red clover blossoms (Trifolium pratense) • oats milky tops (Avena sativa) • oat straw (Avena sativa) • nettle leaf (Urtica dioica) • wild apple mint (Mentha suaveolens) • dandelion root (Taraxacum officinale) • burdock root (Arctium lappa) • pink cornflower blossoms (Centaurea spp.)

preparation: Use two teaspoons of loose tea per cup. Pour boiling water over the herb and add cover. Let steep for 10-15 minutes to bring out full flavor. Enjoy your daily morning cup!