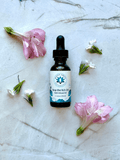 Raven Crest Botanicals
Stop the Itch Oil
A soothing oil blend with plant extracts that stop the itch, relieve insect bites and heal damaged skin. Chickweed and jewelweed comfort itchy skin while St John's wort, calendula and comfrey speed wound healing. Best for rashes with cracked and inflamed skin, bug bites and other dry, irritated skin conditions. For wet rashes, see our Stop the Itch Gel.*
ingredients: organic olive oil infused with: jewelweed leaf and flowers (Impatiens capensis) • comfrey leaf (Symphytum officinale) • chickweed leaf & flower (Stellaria media) • calendula blossoms (Calendula officinalis) • St. John's Wort blossoms (Hypericum perforatum) • German chamomile (Matricaria recutita) • copaiba oleoresin (Copaifera spp.) • esssential oils of lavender &
German chamomile

recommeded use: Apply 1-2 dropperfuls to affected skin as often as needed.
Jewelweed: Jewelweed's brilliant orange flowers can be seen dancing atop its moist, succulent stem. A classic remedy for poison ivy, the two can often be found growing close by, pointing to its affinity for neutralizing itchy, inflamed skin conditions. Rubbing a fresh plant over the skin offers immediate relief for a variety of skin upsets such as bug bites, eczema, rashes and sunburn.

Chickweed: Commonly enjoyed in the spring as a mineral-rich wild food, Chickweed is a wonderful ally to soothe and heal itchy, dry and irritated skin. Its moist, cooling nature brings comfort to burns, rashes, eczema and hives.

Calendula: If sunshine itself was a flower, it would be calendula. Calendula's bright, sunny blossoms soothe skin irritation and inflammation of various kinds both inside and outside the body. Sticky, golden tinted fingers are a common sight here at Ravencrest as we hand harvest the resinous blooms daily through the summer and autumn. A gentle and mild bitter, Calendula brings light and movement to the liver, lymph, skin and digestive system.

St. John's Wort: A sacred herb that historically blooms at the peak of summer solstice, St. John's wort embodies sunshine, movement and expression. This valuable and versatile plant is a potent wound healer, used in many remedies to reduce pain, inflammation and speed wound healing. In addition to its topical strengths, a few of its many uses include helping improve liver detoxification and to address depression by balancing the nervous system.
* This statement has not been evaluated by the Food & Drug Administration. This product is not intended to diagnose, treat, cure or prevent any diseases.