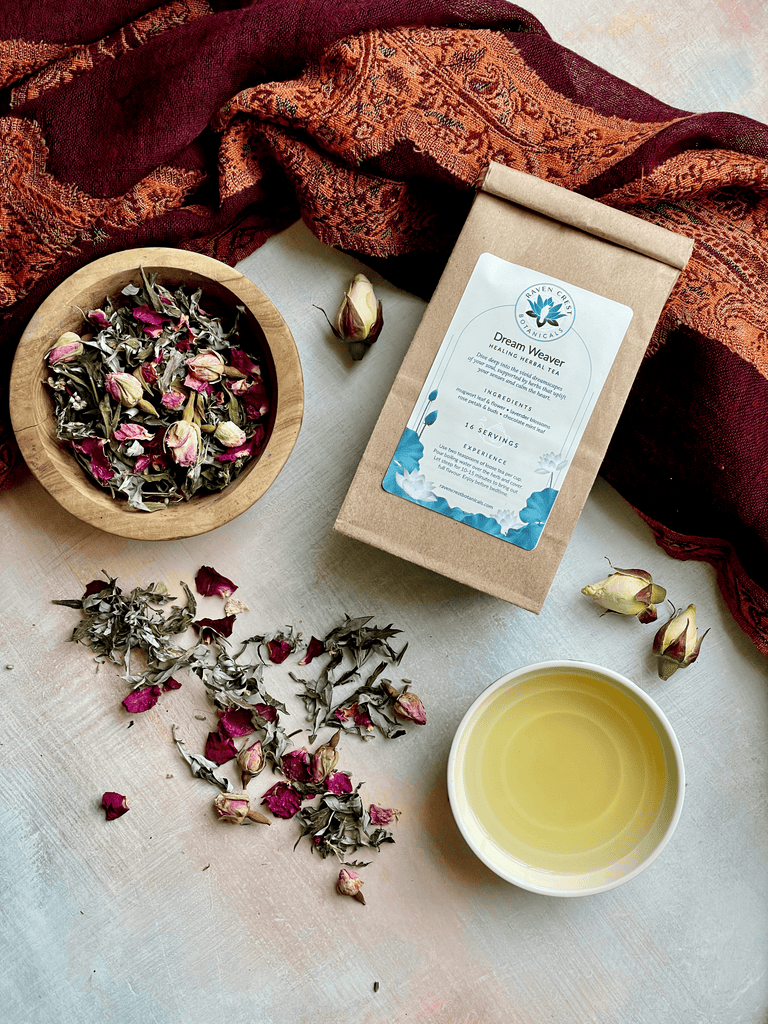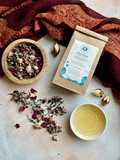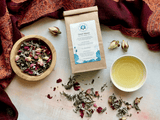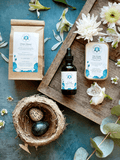 Raven Crest Botanicals
Dream Weaver
Mugwort (Artemisia vulgaris) is the wisdom keeper of dreams. The silvery underside of her elegantly feathered leaves connects her to the inward energy of the moon. Artemis is the Goddess of the forest and the hunt, she knows how to travel well in the mysterious deep woods and is familiar with the beings and creatures who live therein. Mugwort invites you to deepen your connection with your dream maker, to dive deeper into the vivid dreamscapes of your soul and to remember many details of your journey when you return. Rose holds your heart gently during your travels, lavender eases tension and helps to fall asleep. Chocolate mint adds some spice to the tea and harmonizes the energies of the blend.

16 servings.
ingredients: mugwort leaf & flower (Artemisia vulgaris) • lavender blossoms (Lavendula officinalis) •  rose petals & buds (Rosea spp.) • chocolate mint leaf (Mentha × piperita)

preparation: Use two teaspoons of loose tea per cup. Pour boiling water over the herb and cover. Let steep for 10-15 minutes to bring out full flavor. Add a touch of honey to taste. Enjoy before bedtime.
Mugwort:
Mugwort is a magical herb that brings movement, calm and protection. At the height of the summer, we harvest armfulls of the fragrant leaves and flowering tops for our handmade teas and tinctures. Mugwort gently guides awareness into the dream space and aids clarity during nighttime travels. Medicinally, this important herb is used to expel parasites, stimulate digestion and promote blood flow to the pelvic region.

Rose:
Rose is the medicine of the heart. A light astringent with great affinity to cardiovascular health and the well being of your emotional heart, rose helps you feel gently held and cared for. She embraces and soothes the heart space and allows you to feel what needs to be felt, in a safe and protected space.

Chocolate Mint: This beautifully fragrant mint uplifts and calms the spirit, relaxing stress and rejuvenating the nervous system. Mint is also well known to brighten digestion by settling an upset stomach. We hand harvest large basketfuls of chocolate mint over the summer at the peak of vitality, capturing the most vibrant medicine in each leaf.