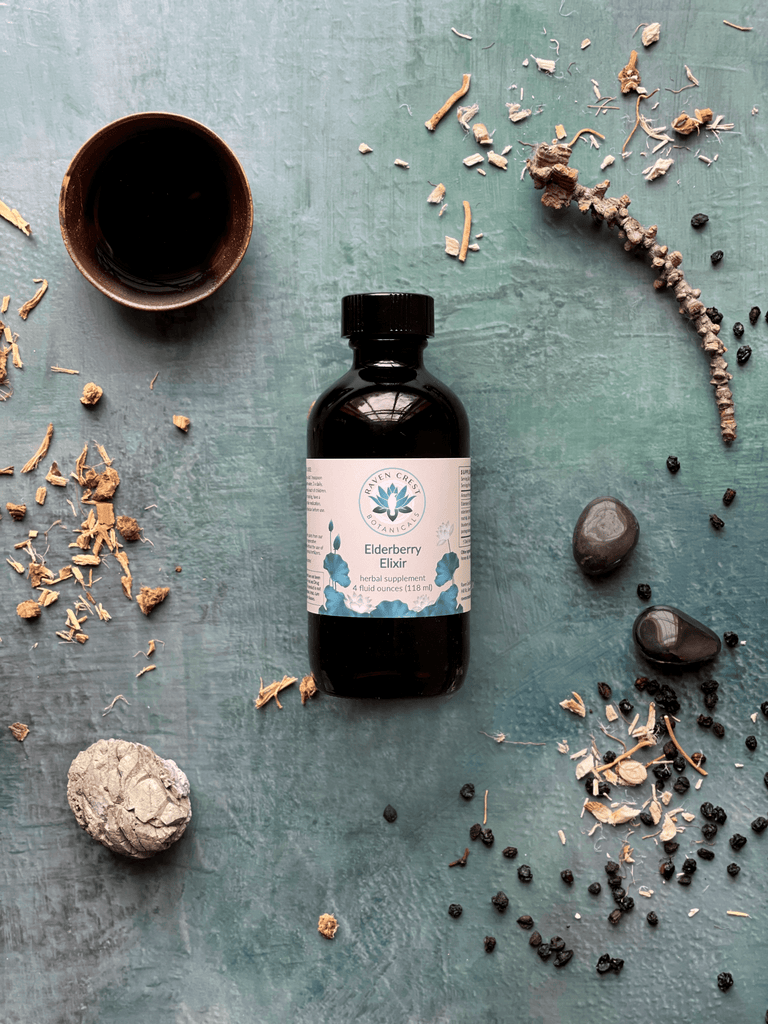 Raven Crest Botanicals
Elderberry Elixir
Our elderberry elixir is a delicious immunity boosting treat that soothes and helps heal irritated tissue. Nourish and strengthen your defenses while remaining spirited and bright throughout the seasons.* 

Ingredients: elderberry fruit (Sambucus nigra) • marshmallow root (Althaea officinalis) • licorice root (Glycyrrhiza glabra) • blueberry juice concentrate • pomegranate juice concentrate • raw local honey • brandy • filtered water
Recommended dosage: Take 1 teaspoon once or twice daily as a preventative. 
During an acute infection take 1 teaspoon every 3-5 hours until symptoms improve or as suggested by a licensed health care practitioner.
Do not take long term in large doses if you have high blood pressure.

Elderberry Fruit:  
Sweet and rich in antioxidants and Vitamin C and a strong affinity to viruses, elderberry strengthens and protects the immune system. Traditionally used to prevent and heal the cold and flu, elderberry is a delicious ally to stay healthy during the colder season.
Marshmallow Root: 
This sweet and soothing root works wonders with its healing effects on mucous membranes. Marshmallow is a demulcent that soothes and protects irritated tissue.  When paired with Elderberry fruit, marshmallow allows the body to relax and recover.

Licorice Root:
Sweet tasting and therefore nourishing, licorice aids in healing inflammation and supports the adrenals. Licorice root is often used synergistically - allowing for other herbs to partner up and boosting their medicinal qualities.
Pomegranate Juice:
Packed with vitamin C and immune boosting bioflavonoids. The dark seeds enrich the body with oxygen by promoting proper blood flow.  Aiding in digestion, immune function & support, no wonder it's been known for ages as the "divine fruit".

Our botanical products are infused with herbal wisdom and fresh high quality herbs from our farm – ethically wild crafted or consciously cultivated from seed to harvest.
All of our flowers and herbs are hand harvested and solar dried with the utmost love and care  to offer you high vibrational, healing plant medicine.
From our hearts to yours, our organic and sustainable growing methods bestow the gift of pure connection - nourished and whole - with mother Earth and our truest selves.
* This statement has not been evaluated by the Food & Drug Administration. This product is not intended to diagnose, treat, cure or prevent any diseases.