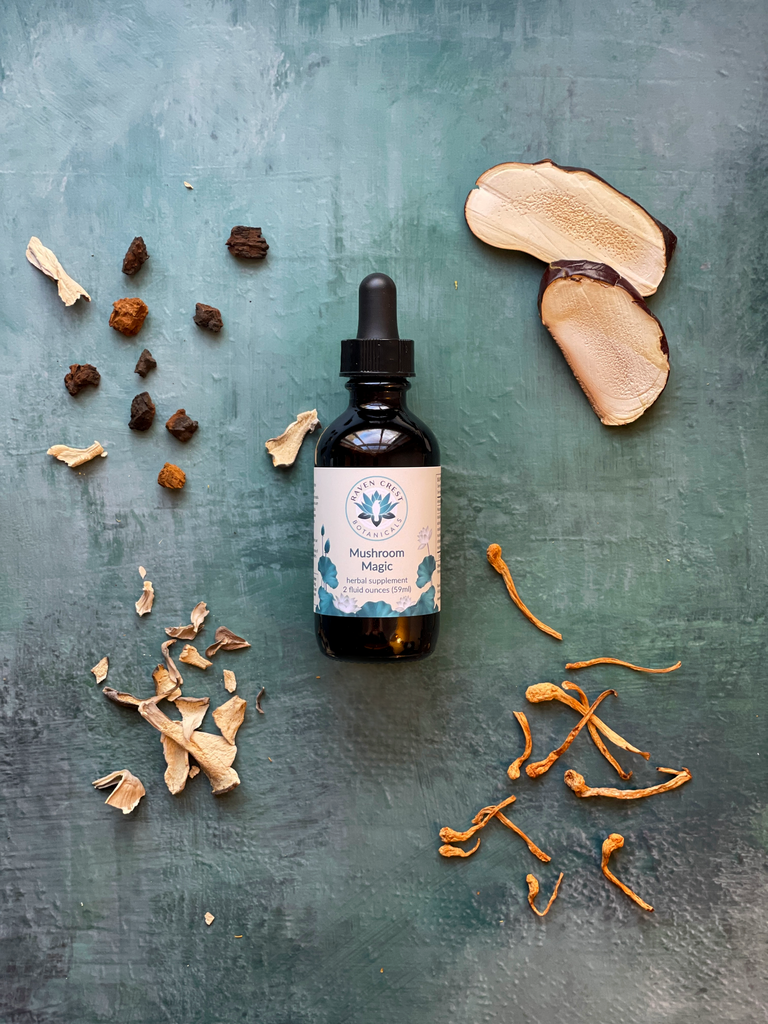 Raven Crest Botanicals
Mushroom Magic
This potent combination of medicinal mushrooms helps boost the immune system. Deeply restorative fungi come together to support your body's ability to bounce back from stress by strengthening energy levels, resilience and endurance. Taken regularly, adaptogenic properties help the body to achieve homeostasis and return to a state of balance. *
ingredients: double extracted in filtered water and organic cane alcohol: reishi mushroom (Ganoderma tsugae) • maitake mushroom (Grifola frondosa) • turkeytail mushroom (Tramates versicolor) • blazei mushroom (Agaricus blazei) • shiitake mushroom (Lentinula edodes) • lionsmane mushroom (Hericium erinaceus)

recommended dosage: Take 80 drops or 4 dropperfuls in a little warm water, 2-3 times daily after meals. 
Reishi: Reishi is a medicinal mushroom that has been used in folk medicine in China and Japan for over 4000 years. It has traditionally been used to improve health and vitality and as a cardio tonic and immune educator.

Maitake: Maitake is an essential ally to bring greater resilience to the immune system. This mushroom shines by normalizing immune disharmony and depletion, which can often manifest as a variety of allergic responses and recurring infections. Among its numerous talents, Maitake is often cited as an important herbal support in cancer prevention and treatment protocols.

Turkey Tail: This beautiful, multicolored mushroom has a host of benefits that have been valued in Chinese and Japanese medicine for centuries. Its therapeutic powers strengthen the body's endurance against disease, promoting overall vitality during chronic illness. Turkey tail displays potent anti-tumor potential by increasing the effectiveness of immune cells and is known for its support to lung, cardiovascular and digestive vigor.

Shiitake: Valued as both a delicious food and potent medicine, shiitake is known for its exceptional immune system support. Helpful for a variety of immune depleted states, autoimmune disharmonies and environmental allergies, it is also a useful aid to cancer treatments and viral infections.

* This statement has not been evaluated by the Food & Drug Administration. This product is not intended to diagnose, treat, cure or prevent any diseases.