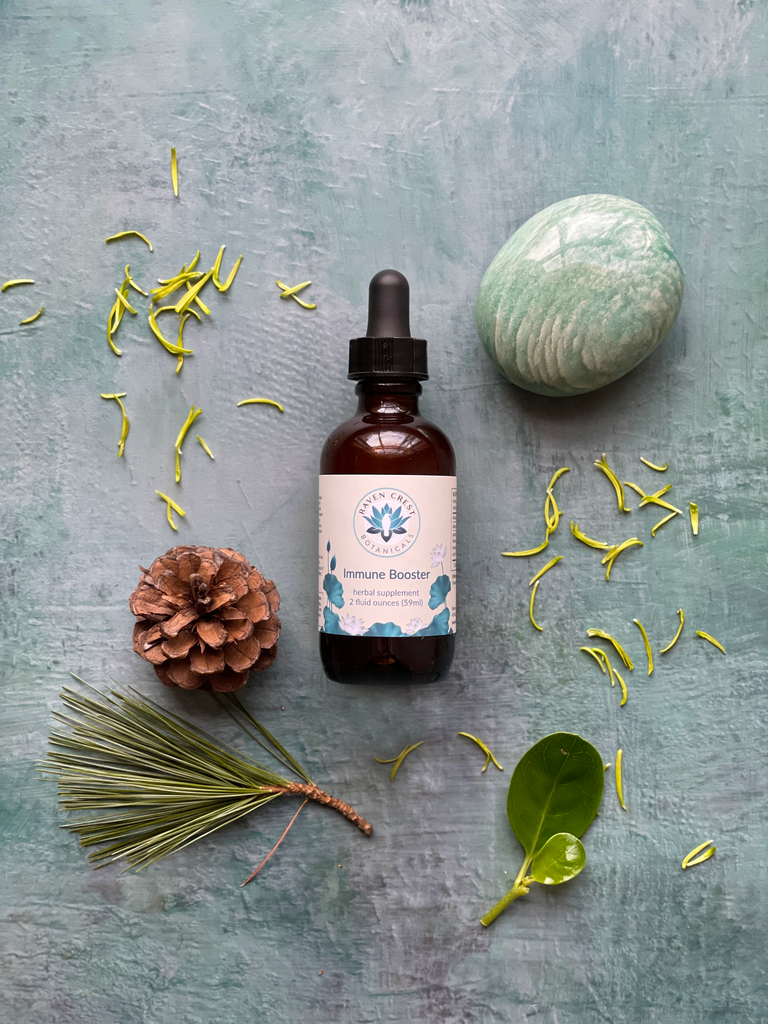 Raven Crest Botanicals
Immune Booster
Support your natural defenses during cold and flu season with a powerful combination of immune boosting herbs. Helps give the body resilience as a preventative or in the early stages of infections . *
ingredients: purple coneflower (Echinacea purpurea) • spilanthes flowers (Spilanthes acmellia) • Oregon grape root (Mahonia aquifolium) • boneset leaf & flower (Eupatorium perfoliatum) • osha root (Ligusticum porteri) • sweet Annie glycerite (Artemisia annua) • organic cane alcohol • filtered water

Recommended use: Shake well before use. Add 80 drops or 4 dropperfuls to a shot glass of warm water, every 3-4 hours, until symptoms subside. Keep out of reach of children.
Purple Coneflower:
A beloved support for cold and flu season, Purple Coneflower is used to stimulate the lymphatics and immune response to prevent and treat infections. Used in the early stages of illness, this herb helps to shorten the duration and severity of symptoms, helping you to greet your days with strength and vigor.

Spilanthes:
Often called the 'toothache plant', Spilanthes is a pungent, aromatic herb that when chewed stimulates a unique tingling and numbing sensation to the mouth and gums. Spilanthes provides immune and lymphatic support while strongly inhibiting fungus and bacteria.

Oregon Grape:
Oregon grape root offers berberine as its medicine. It is strongly antimicrobial, and an overall support for gently increasing elimination of wastes from the body, helping us to heal and function in a healthy way. The bright yellow roots also feed our good gut bacteria and act as a prebiotic, easing bacterial overgrowth in the digestive tract. 

Boneset:
When you feel a cold coming on, Boneset is an excellent immune stimulating herb to have in your medicine chest. Traditionally used to treat fever, chills, night sweats or aching muscles and bones, Boneset stimulates a therapeutic sweat in fevers, helping them to break.

* This statement has not been evaluated by the Food & Drug Administration. This product is not intended to diagnose, treat, cure or prevent any diseases.