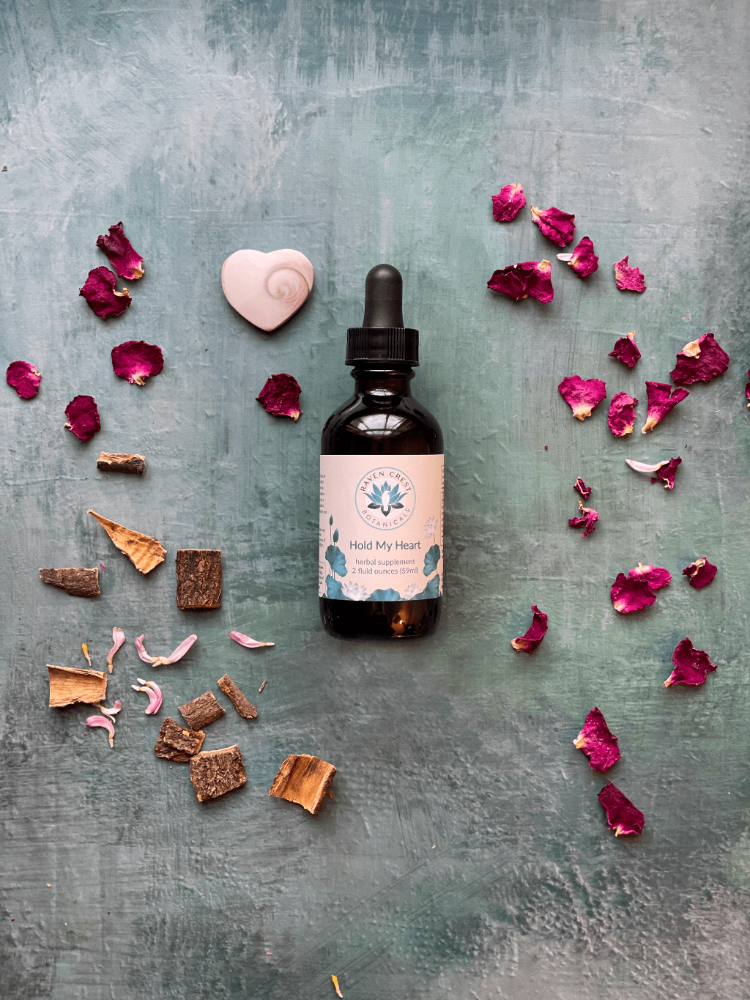 Raven Crest Botanicals
Hold My Heart
This is a wonderful, sweet tasting solace for an aching heart. Hawthorn leaves, flowers and berries strengthen the emotional and physical heart. Mimosa lifts the spirit into the light and rose gently holds and protects the heart in times of grief and sadness.  *
Ingredients: hawthorn leaf & flower (Crataegus spp.) • hawthorn berries (Crataegus spp.) • mimosa tree bark (Albizia julibrissin) • rose petals (Rosea spp.) • rose glycerite (Rosea spp.) • flower essences of hyssop, borage and rose • organic cane alcohol • filtered water
Recommended use: Shake well before use. As a daily tonic use 50 drops or 2 dropperfuls in a little warm water 2-3 times daily. For acute heartbreak and heart ache use as often as needed.
Hawthorn:
Spring harvested hawthorn leaves and flowers support the emotional heart by pulling your energy back in towards your center, while balancing the emotions. Hawthorn flowers can help ease insomnia and hold your heart gently in times of grief and sadness. The dark red berries, also known as "Pixie Pears", ripen in the fall and hold powerful heart medicine that can lower blood pressure, encourage a strong and steady heart beat, and improve memory function.
Rose: 
Rose is the medicine of the heart. Her petals tightly closed at first and then opening courageously, unstoppable, into her full potential, glorious in all her beauty. Rose opens our heart chakra, allowing love to flow freely and grief to be fully expressed so we can let it go. Her astringent properties help tone tissue and protect the cardiovascular system. 

Our botanical products are infused with herbal wisdom and fresh high quality herbs from our farm – ethically wild crafted or consciously cultivated from seed to harvest.
All of our flowers and herbs are hand harvested and solar dried with the utmost love and care  to offer you high vibrational, healing plant medicine.
From our hearts to yours, our organic and sustainable growing methods bestow the gift of pure connection - nourished and whole - with mother Earth and our truest selves.
* This statement has not been evaluated by the Food & Drug Administration. This product is not intended to diagnose, treat, cure or prevent any diseases.