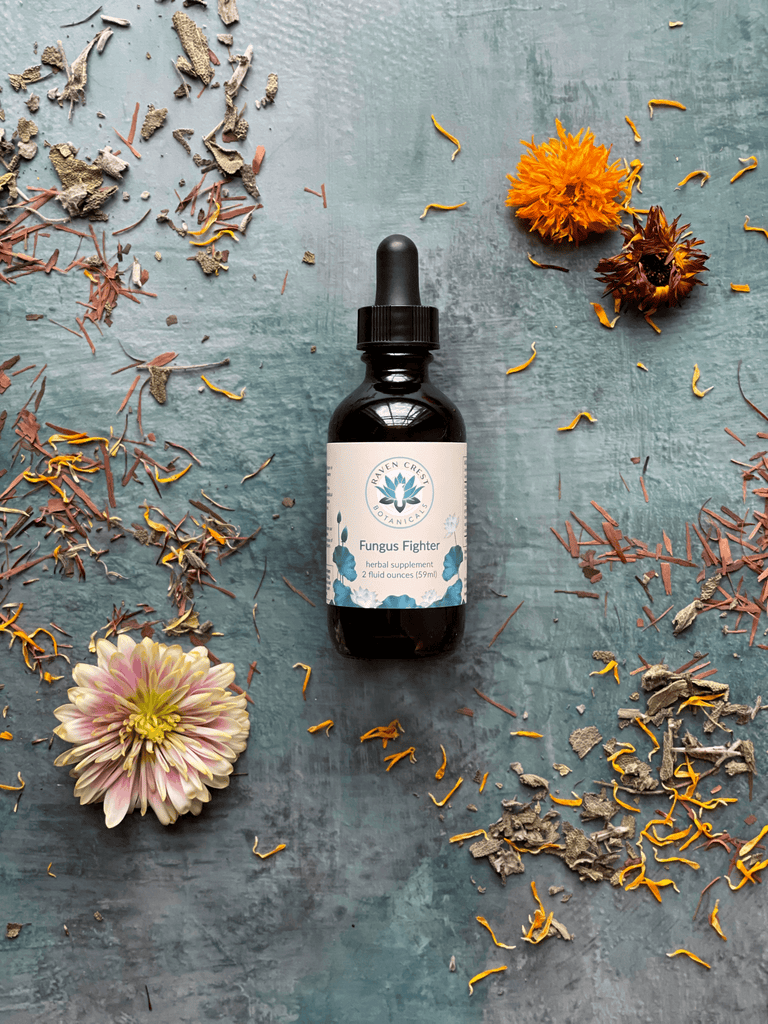 Raven Crest Botanicals
Fungus Fighter
Our Herbal Fungus Fighter extract blend enhances your immune system's resistance to infections, stimulates wound healing and can be applied externally on affected skin areas or taken internally to clear yeast from your system. A potent blend of herbs useful for a variety of different fungal conditions. Use together with our Fungus Fighter Rescue Balm. *
ingredients: calendula blossoms (Calendula officinalis) • Oregon grape root (Mahonia aquifolium) • spilanthes leaf & flower (Spilanthes acmella) • pau d'arco (Tabebuia impetiginosa) • sage (Salvia officinalis) • sweet Annie (Artemesia annua) • usnea (Usnea longissima) • chaparrel leaf (Larrea tridentata) • organic cane alcohol • filtered water
Recommeded use: Shake well before use. Add 50 drops or 2 dropperfuls to a shot glass of warm water, 3 times daily, after meals.
Calendula:
If sunshine itself was a flower, it would be calendula. Calendula's bright, sunny blossoms soothe skin irritation and inflammation of various kinds both inside and outside the body. Sticky, golden tinted fingers are a common sight here at Ravencrest as we hand harvest the resinous blooms daily through the Summer and Autumn. A gentle and mild bitter, Calendula brings light and movement to the liver, lymph, skin and digestive system.

Sweet Annie:
Sweet Annie's unmistakeable fragrance fills the air around harvest time. This impressive aromatic plant is a centuries old remedy for skin disorders of various types, and is best known for its folk use as a treatment of malaria.

Usnea:
Usnea is a lichen, which is a partnership between fungus and algae. It grows hanging down in hair-like tufts on trees in wet climates with clean air, giving it the nickname 'lungs of the forest'. Usnea is a classic remedy used both internally and externally for a variety of fungal infections and also has an affinity for the urinary tract and respiratory system.

Pau d'arco:
Pau d'arco is a huge canopy tree native to the Amazon rainforest and other tropical parts of South and Latin America. Its historical uses are numerous, among them being a potent ability to treat external skin infections, illnesses and wounds.

Spilanthes:
Often called the 'toothache plant', Spilanthes is a pungent, aromatic herb that when chewed stimulates a unique tingling and numbing sensation to the mouth and gums. Spilanthes provides immune and lymphatic support while strongly inhibiting fungus and bacteria.

* This statement has not been evaluated by the Food & Drug Administration. This product is not intended to diagnose, treat, cure or prevent any diseases.