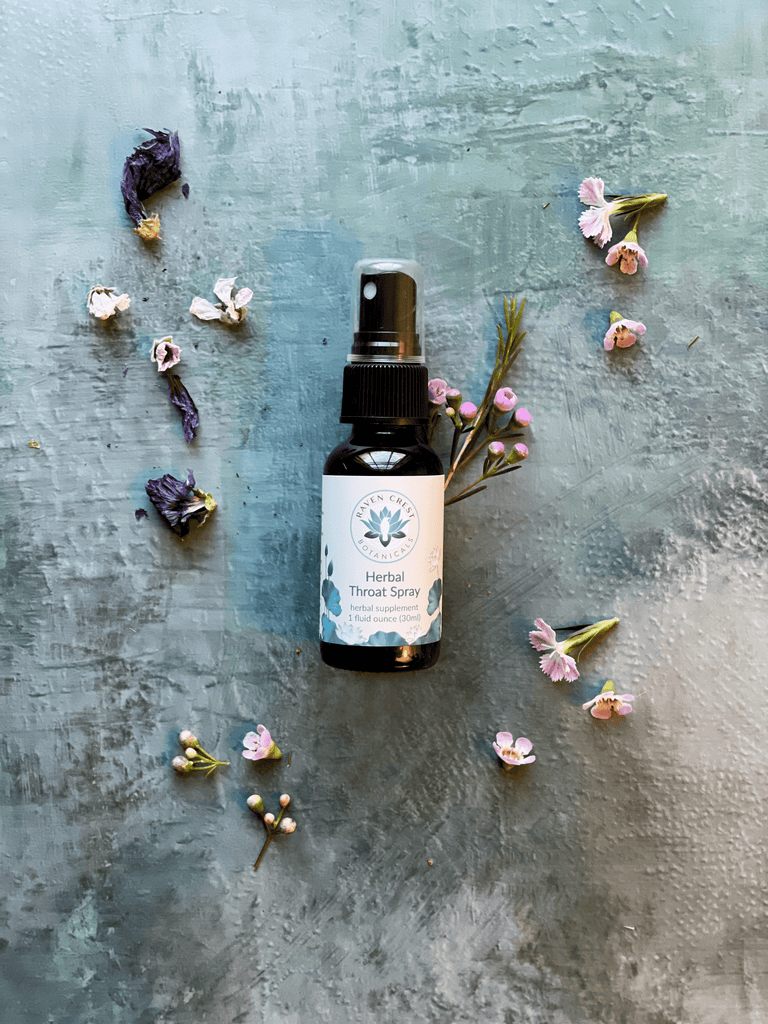 Raven Crest Botanicals
Herbal Throat Spray
Soothe a tender, sore throat with our healing herbal spray. Purple coneflower, Oregon grape root, and spilanthes flowers help to gently numb and relieve painful irritation and keep microbes at bay. Keep on hand during cold and flu season as a preventative, as a support during sickness, or when you feel seasonal allergies coming on. *
ingredients: purple coneflower blossom (Echinacea purpurea) • Oregon grape root (Mahonia aquifolium) • spilanthes flower (Spilantes acmellia) • usnea lichen (Usnea longissima) • sweet Annie glycerite (Artemisia annua) • organic cane alcohol • filtered water
recommended use: Shake well before use. Spray 3 times directly in throat and swallow, up to 5 times daily.
Purple Coneflower: A beautiful hardy perennial in the garden and beloved support for the cold and flu season, Purple Coneflower is used to stimulate the lymphatics and immune response to prevent and treat infections. Used in the early stages of illness, this herb helps to shorten the duration and severity of symptoms, helping you to greet your days with strength and vigor.

Oregon Grape Root: Oregon Grape is a berberine containing plant with strong anti-bacterial properties. The yellow root supports healthy liver and digestive function. Its bitter, cooling nature settles a nervous stomach while stimulating digestive fluids, helping the body to break down food and nutrients. A versatile herb, Oregon Grape Root also aids healing for a variety of infections and liver related skin conditions.

Spilanthes: Often called the 'toothache plant', Spilanthes is a pungent, aromatic herb that when chewed, stimulates a unique tingling and numbing sensation to the mouth and gums. Spilanthes provides immune and lymphatic support while strongly inhibiting fungus and bacteria.

* This statement has not been evaluated by the Food & Drug Administration. This product is not intended to diagnose, treat, cure or prevent any diseases.