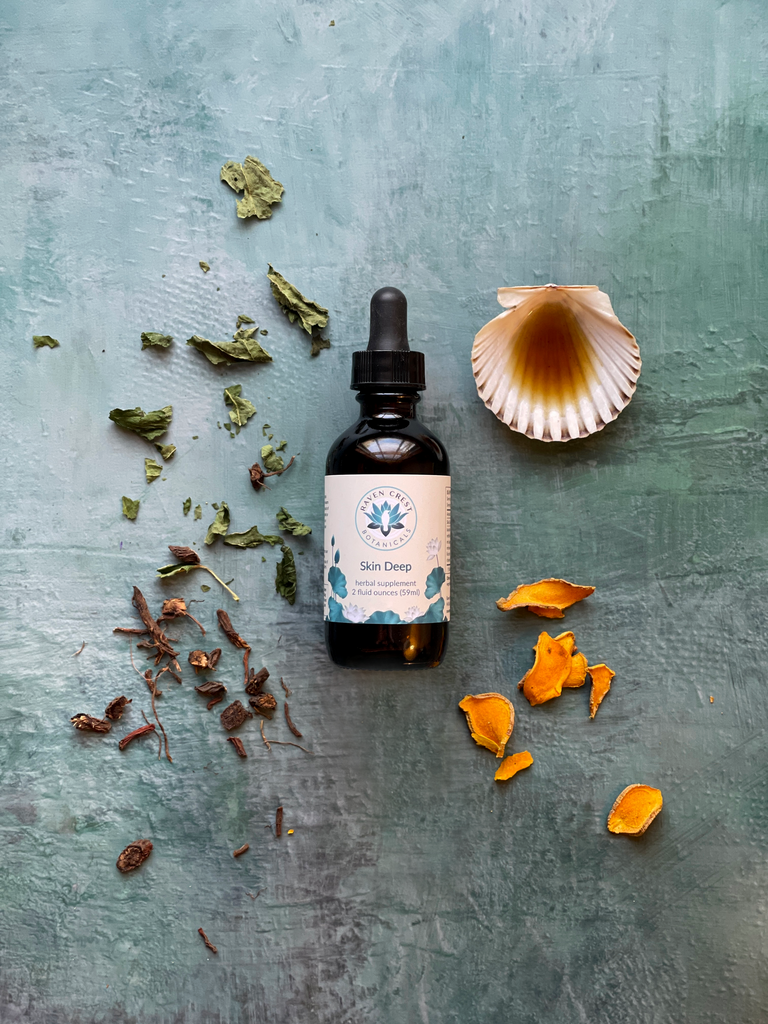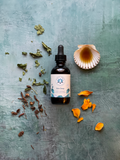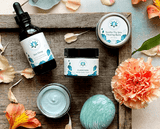 Raven Crest Botanicals
Skin Deep
Support a glowing, vital complexion from inside out with this potent blend of skin-loving botanicals. Whole body skin support comes from herbs like burdock root and milk thistle that stimulate the liver to clear toxins. Inflammation reducing allies such as turmeric, licorice, nettle leaf and reishi also help provide the body nourishing minerals to aid in cell repair. Red sage root supports healthy circulation, rehmannia replenished depleted adrenals, while violet leaf shines as a gentle but effective lymph mover. This dynamic A-team of herbs work together synergistically for both overall skin wellness and during acute outbreaks of acne, rashes, hives and eczema. *
Ingredients:  burdock root (Arctium lappa) • reishi mushroom (Ganoderma tsugae) • nettle leaf (Urtica dioica) • milk thistle seeds (Sylibum marianum) • red sage root (Salvia miltiorrhiza) • violet leaf (Viola odorata) • rehmannia root (Rehmannia glutinosa) • turmeric root (Curcuma longa) • licorice root (Glycyrrhiza glabra) • German chamomile flower glycerite (Matricaria recutita) • organic cane alcohol • filtered water

Recommended dosage: Shake well before use. Add 50 drops or 2 dropperfuls to a shot glass of warm water, 3 x daily after meals.
Reishi: Reishi is a medicinal mushroom that has been used in folk medicine in China and Japan for over 4000 years. It has traditionally been used to improve health and vitality and as a cardio tonic and immune educator.
Nettle: Nettle is one of our most building and nourishing tonics as food and medicine. Regular use of nettles help normalize a variety of allergic responses, ranging from skin conditions, seasonal allergies and chemical sensitivities. One of the first edible plants of springtime, nettles are a deeply nutritious, mineral-rich herbal food that gently encourages the organs of elimination to function more effectively.

Burdock: Burdock has a long, thick tap root that reaches deep into the ground, absorbing minerals and nutrients from the surrounding soil. This nourishing, all-purpose botanical encourages whole body health by supporting our digestive and immune functions. Its cooling nature reduces inflammation and can greatly improve the lymphatics and skin, especially when our normal detox pathways are impaired.

Rehmannia: Rehmannia is a highly valued herb used in Traditional Chinese medicine to nourish and support the body's recovery from long periods of stress. A cooling, sweet and slightly bitter root, it clears excess heat in the body that may contribute to inflammatory skin conditions. A tonic to the blood and kidney yin (the source of the body's vitality and nourishment), it helps protect and restore our life energy and resilience.

Milk Thistle: Our liver works hard to process so much of what we take in day to day. Milk thistle is an excellent remedy that helps to grow new liver cells, and supports and protects the liver and kidneys, aiding them to more effectively clear toxins from the body. In addition to its restorative benefits, it also provides gentle toning to the digestive system.
* This statement has not been evaluated by the Food & Drug Administration. This product is not intended to diagnose, treat, cure or prevent any diseases.