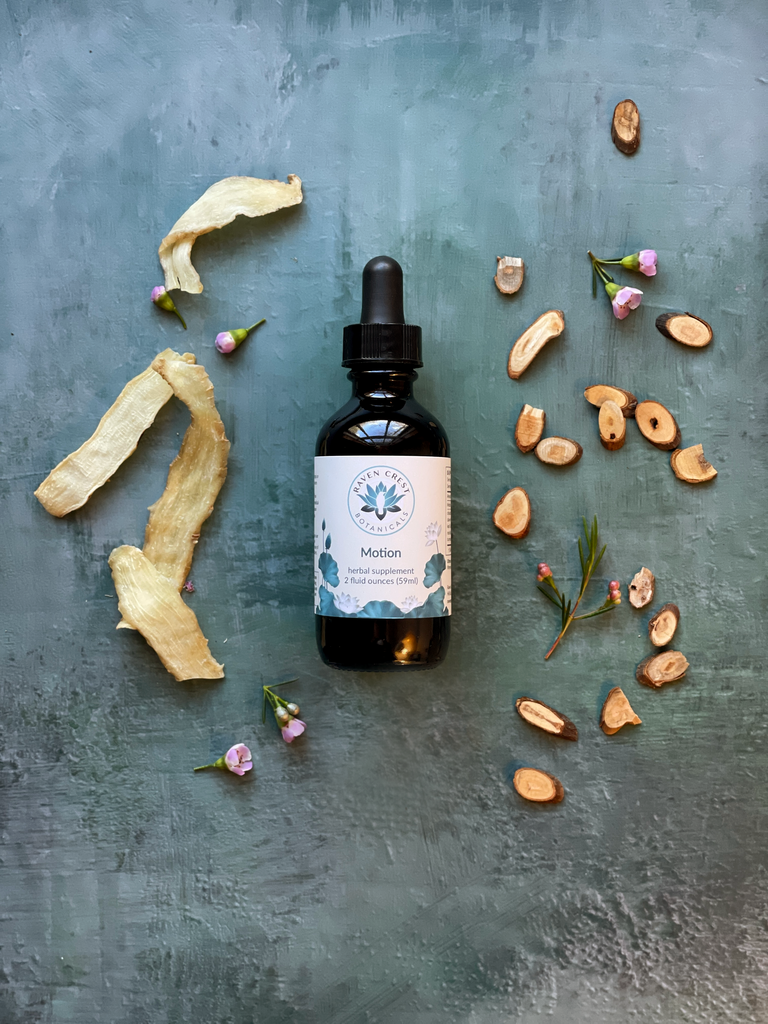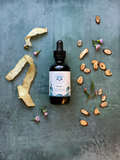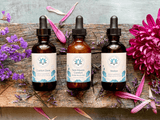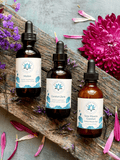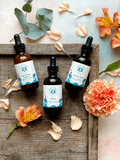 Raven Crest Botanicals
Motion
Support inflamed joints and ligaments with this powerful blend of herbs and roots from throughout the world. Helps to ease the recovery of back pain, sprains and other stresses to the musculoskeletal system to restore healthy movement to areas experiencing stiffness and inflammation. *
ingredients: chuchuhuasi tree bark (Maytenus krukovii) • cat's claw vine bark (Uncaria tomentosa) • meadowsweet leaf & flower (Filipendula spiraea) • devil's claw root (Harpagophytum procumbens) • Solomon's seal root (Polygonatum) • turmeric root (Curcuma longa) • licorice root (Glycyrrhiza glabra) • organic cane alcohol • filtered water

recomended use: Shake well before use. Add 50 drops or 2 dropperfuls to a shot glass of warm water, 3 x daily, after meals. Keep out of reach of children.
Devil's Claw: Devils Claw is native to South Africa, and is named for the small hooks that surround its fruit. The tuberous roots offer support for inflammation and pain in the musculoskeletal system. It is commonly used for arthritic conditions and as a general tonic for states of stiffness, fatigue, aching and tenderness.

Chuchuhuasi: Chuchuhuasi is an enormous canopy tree of the Amazon rainforest that grows to 30 m high. It is a powerful remedy to calm inflamed joints and muscle aches while strengthening the nervous system. Its potent qualities bring balance to restore and protect the body from stress. While chuchuhuasi has a long history of medicinal use, it is also revered as a sacred plant teacher in many indigenous Amazonian communities.

Meadowsweet: The flowering tops and leaves of Meadowsweet are an excellent anti-inflammatory tonic for the skeletal muscles, digestive and urinary tracts. Its sweet, bitter and cooling nature imparts nourishment and movement to ease hot, inflamed gastric conditions. In a similar fashion it calms heat and irritation in the joints, muscles, and fibrous tissue.
* This statement has not been evaluated by the Food & Drug Administration. This product is not intended to diagnose, treat, cure or prevent any diseases.