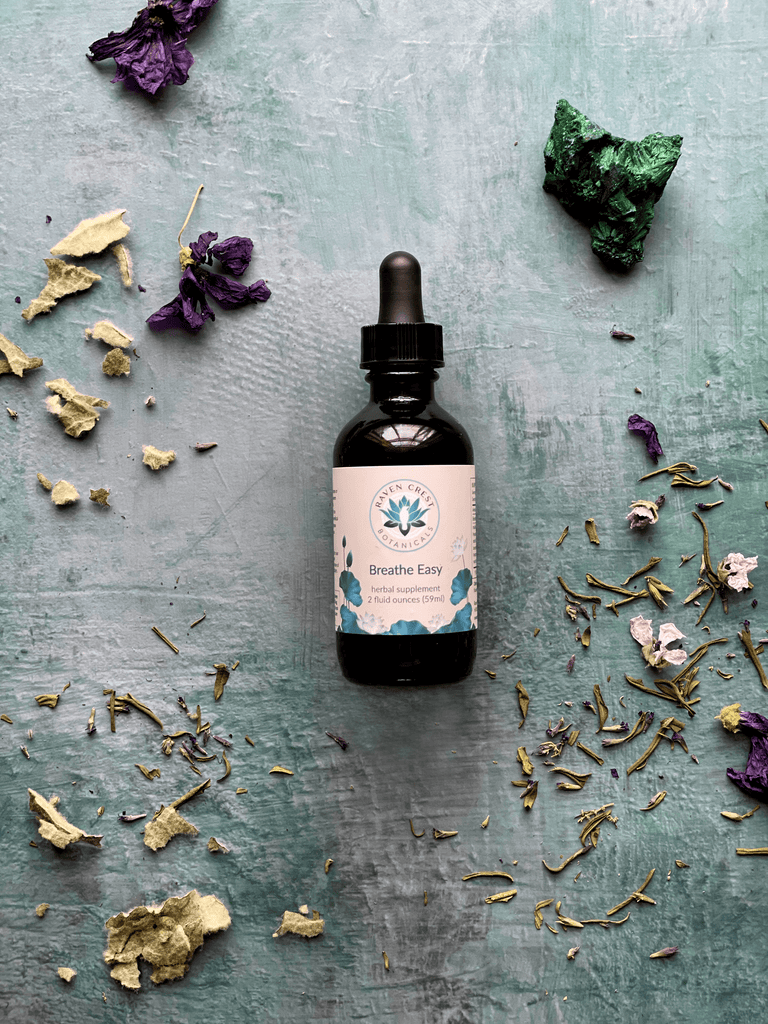 Raven Crest Botanicals
Breathe Easy
Bring strength and relief to the respiratory system with this special blend of lung-loving herbs. Nourishing and aromatic roots, leaves and flowers bring expansion to the airways while soothing mucous membranes. Perfect for use throughout the year during times where the airways could use a little more assistance. *
ingredients: mullein leaf (Verbascum thapsus) • elecampane root (Inula helenium) • hyssop leaf & flower (Hyssopus officinalis) • thyme leaf (Thymus vulgaris) • marshmallow leaf (Althaea officinalis) • boneset leaf & flower (Eupatorium perfoliatum) • anise hyssop leaf & flower (Agastache foeniculum) • licorice root (Glycyrrhiza glabra) • bee balm glycerite (Monarda fistulosa) • organic cane alcohol • filtered water

Recomended use:  Shake well before use. Add 80 drops or 4 dropperfuls to a shot glass of warm water, 3 times daily, after meals.
Hyssop:
Hyssop is an aromatic plant in the mint family that both uplifts and relaxes the spirit. Supportive during colds as a warming expectorant, hyssop helps move damp congestion out of the lungs without being overly drying.

Mullein:
Mullein's stately stalk, ornamented with a bounty of yellow flowers grows from a rosette of large, fuzzy leaves. Soothing and healing to dry, irritated tissue, the leaves are particularly helpful to free the lungs from dry, stuck mucus. The flower infused oil is a staple remedy for ear infections to ease discomfort and aid recovery time. Both leaves and roots are a valuable musculoskeletal remedy that supports the healing of broken bones and other misalignments.

Elecampane:
The aromatic roots of elecampane are a versatile lung tonic that support the respiratory system during acute illness and recovery. Its mildly bitter yet nourishing nature helps to ease a persistent, wet cough, open the lungs and soothe chest pain and discomfort. Elecampane also improves digestion, highlighting the important link between lung and gut health.

Thyme:
Warming, drying and aromatic, thyme is a kitchen pantry staple with potent medicinal properties. Helpful to calm irritated lungs and relieve recurrent coughs, thyme is a helpful ally for a variety of respiratory related bacterial and viral infections.

Boneset:
When you feel a cold coming on, boneset is an excellent immune stimulating herb to have in your medicine chest. Traditionally used to treat fever, chills, night sweats or aching muscles and bones, boneset stimulates a therapeutic sweat in fevers helping them to break more quickly.

Anise Hyssop:
Anise hyssop is a delightful presence in the garden, offering its beautiful purple blossoms to pollinators and people alike. The fragrant, anise - mint aroma and sweet taste offer a gently stimulating, warming effect that aids a variety of respiratory and digestive complaints. Helpful during cold and flu season, anise hyssop is a delicious way to help lung infections, coughs, congestion and stomach upset of many kinds.
* This statement has not been evaluated by the Food & Drug Administration. This product is not intended to diagnose, treat, cure or prevent any diseases.