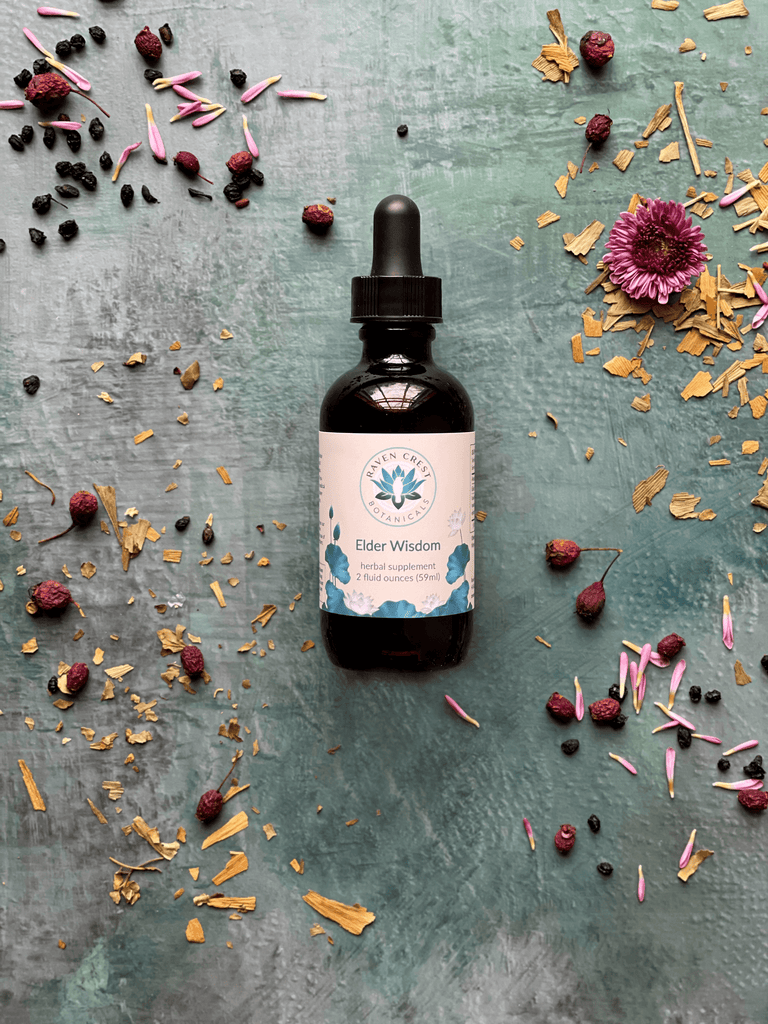 Raven Crest Botanicals
Elder Wisdom
Our blend of tonifying herbs supports the elderly body and mind with hawthorn for cardiovascular support, elderberry to strengthen the immune system, bilberry to support eye health and ginkgo to help to improve memory and cognitive function.*
Ingredients: hawthorn leaf & flower (Crataegus spp.) • hawthorn berries (Crataegus spp.) • bilberry fruit (Vaccinium myrtillus) • elderberry fruit (Sambucus nigra) • ginkgo leaf (Gingko biloba) • organic cane alcohol • filtered water

Recommended use: Shake well before use. Add 50 drops or 2 dropperfuls to a shot glass of warm water, 3 x daily, after meals.
Elderberry:
Sweet and rich in antioxidants and Vitamin C and a strong affinity to viruses, elderberry strengthens and protects the immune system. Traditionally used to prevent and heal the cold and flu, elderberry is a delicious ally to stay healthy during the colder season.

Ginkgo Leaf:
The leaves of this ancient tree are known to tone the cardiovascular system and increase circulation to the periphery - including your brain. Ginkgo increases oxygen uptake in the blood and has wonderful positive effects on mood, energy levels, concentration and memory.

Hawthorn:
A beautiful tree in the rose family whose berries gift us their medicine for the heart - physically and emotionally. Their properties call in tranquility and openness allowing the release of anxiety. By increasing cardiovascular activity, hawthorn strengthens the heart, therein assisting in overall well being. It allows us to remain in balance and find peace throughout transitions and challenging times.
* This statement has not been evaluated by the Food & Drug Administration. This product is not intended to diagnose, treat, cure or prevent any diseases.