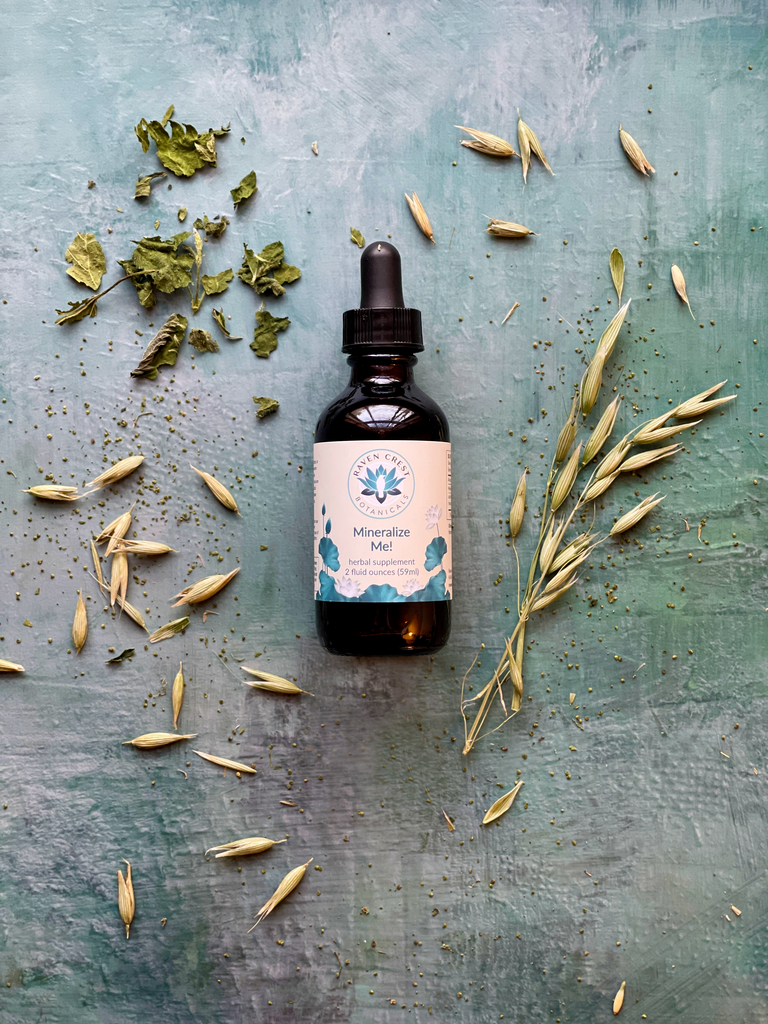 Raven Crest Botanicals
Mineralize Me!
Minerals are essential for our body to maintain strong bones and teeth, produce hormones, support muscle health, and encourage healthy brain and nervous system function. In addition to these life sustaining activities, a diet of balanced minerals including silica, calcium, magnesium, and vitamin D can also help maintain healthy nails and hair. Give your body a boost of well rounded nutrients with a nourishing blend of nettle, horsetail, kelp, and oat straw. *
ingredients: oat straw (Avena sativa) • nettle leaf (Urtica dioica) • horsetail leaf (Equisetum arvense) • kelp leaf (Ascophyllum nodosum) • organic cane alcohol • filtered water

recommended dosage: Shake well before use. Add 50 drops or 2 dropperfuls to a shot glass of warm water, 2-3 times daily, after meals.
Oats: Oat straw is exceptionally rich in minerals. Oat flowers, harvested in their half ripe "milky" stage, are a nourishing remedy for the nerves. Sweet tasting polysaccharides help to soothe and protect nerve endings, calming the mind and physical nervous system alike. Oats milky tops rebuild an exhausted and weak nervous system back to health, while oat straw brings nutrient dense nourishment to the body's tissues.

Nettle: Nettle is one of our most building and nourishing tonics as food and medicine. Regular use of nettles help normalize a variety of allergic responses, ranging from skin conditions, seasonal allergies and chemical sensitivities. One of the first edible plants of springtime, nettles are a deeply nutritious, mineral-rich herbal food that gently encourages the organs of elimination to function more effectively.
* This statement has not been evaluated by the Food & Drug Administration. This product is not intended to diagnose, treat, cure or prevent any diseases.