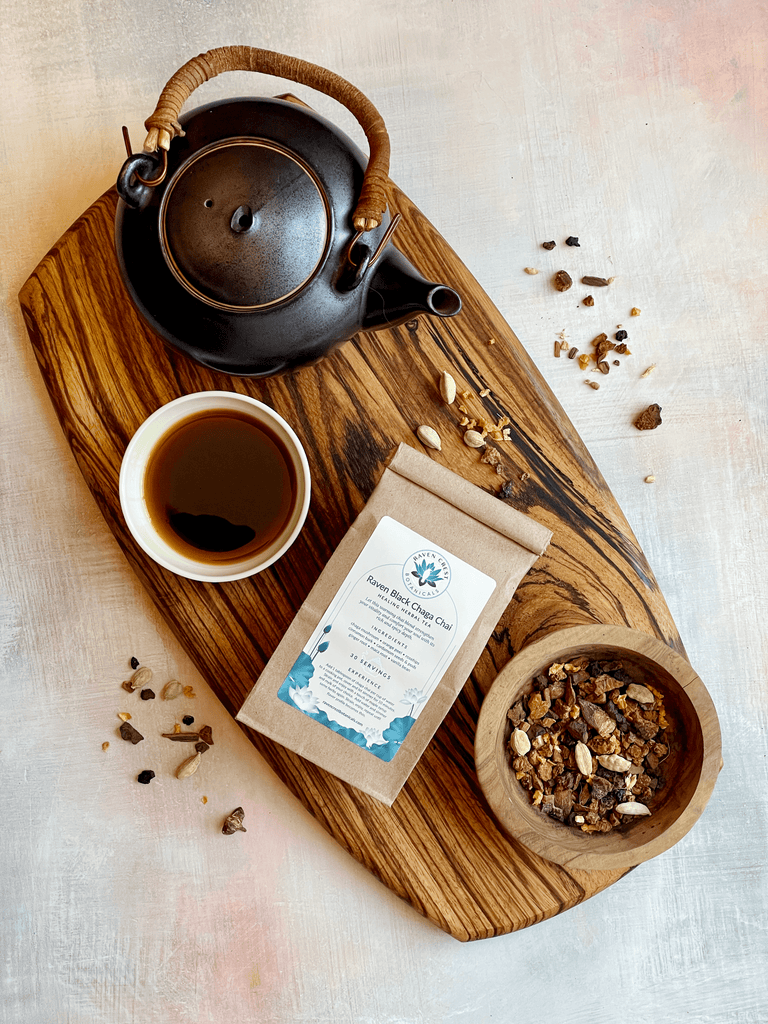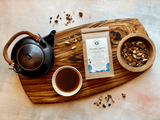 Raven Crest Botanicals
Raven Black Chaga Chai
Black like a raven and comforting like a warm cup in front of the wood stove, our chaga chai has a spicy kick and tastes like a blend between coffee and tea without the jitters. Immune supporting chaga mushroom is mixed with sweet and warming spices for a delicious, invigorating blend. Our Chaga Chai is a healthy, everyday winter tea that replenishes your adrenals and strengthens your overall vitality. Naturally caffeine free and good for you!

30 servings.
ingredients: chaga mushroom (Inonotus obliquus) • orange peel (Citrus aurantium) • rosehips (Rosea spp.) • cinnamon bark (Cinnamomum cassia) • cardamom seeds & pods (Elettaria cardamomum) • ginger root (Asarum canadense) • maca root (Lepidium meyenii) • vanilla bean (Vanilla planifolia)

preparation: Add 1/2 the bag to a pot with 2-3 quarts of water, cover, bring to a boil and let simmer for 10 minutes. Strain and enjoy with a touch of honey or maple syrup and creamer/milk of your choice. Do not discard the chaga and leave it in the pot. Add more water and simmer again. Strain, enjoy, repeat. When the brew becomes light like tea, add the rest of the bag and repeat the boiling process until the flavor becomes thin.