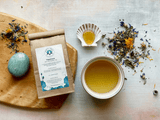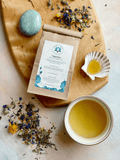 Raven Crest Botanicals
Happiness Tea
This blend of soothing and uplifting herbs is a hot cup of joy from our garden to your mug. Made with Raven Crest's own anise hyssop, holy basil, and calendula blossoms, this tea has a subtle licorice aroma and lightly sweet taste that is sure to lift your spirits and put a smile on your face. Naturally caffeine free.
16 servings.
ingredients: tulsi leaf & flower (Ocimum sanctum) • anise hyssop leaf & flower (Agastache foeniculum) • calendula flowers (Calendula officinalis) •  blue cornflower blossoms (Centaurea spp.)

preparation: Use two teaspoons of loose tea per cup. Pour boiling water over the herb and cover. Let steep for 10 minutes to bring out full flavor. Enjoy!