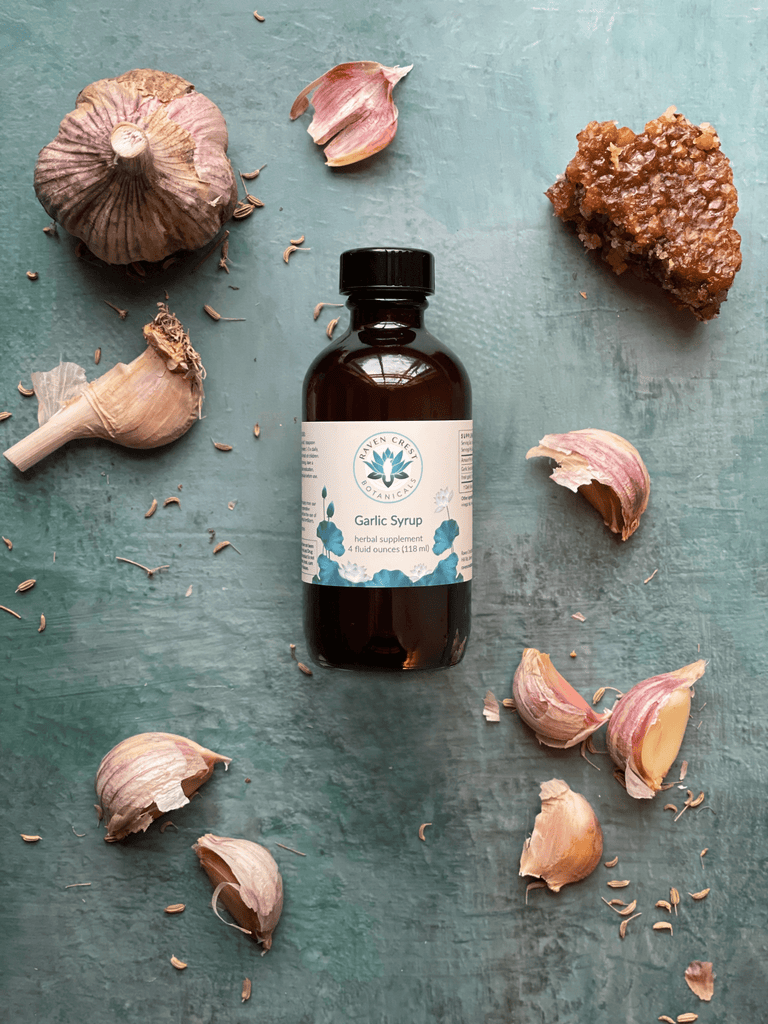 Raven Crest Botanicals
Garlic Syrup
Garlic syrup is a powerful lung and heart tonic with a warming and spicy kick. Fresh farm grown garlic and fennel seeds join organic apple cider vinegar and local raw honey for an immune stimulating dance. Garlic holds the power to help heal bacterial lung infections, aids in lowering cholesterol, and is a welcome friend during the cold and flu season. 
If taking garlic syrup by itself seems a bit intense for you, you can easily incorporate it into your food by replacing vinegar in salad dressings. Garlic syrup also makes a nice garlicky, home made mustard when combined with mustard seeds and salt in a blender. 
Ingredients: fresh garlic (Allium sativum) • fennel seeds (Foeniculum vulgare) • organic raw apple cider vinegar • raw local honey

Recommended dosage: Take 1 teaspoon in a little bit of warm water 1-3 times daily as a preventative, more often during an acute condition. 
Fennel:
Since antiquity, Fennel has been a valuable food and medicine, revered for its healing and protective properties. Helpful to have on hand after a heavy meal, the slightly sweet, aromatic seed gently warms and soothes our system, calming digestive upset and increasing appetite.